19 October 2015
The Community Chest Wheelock Swim for Millions 2015
- A Fun Day for All
The Community Chest Wheelock Swim for Millions 2015 is to take place at 9 am on Sunday 25 October 2015 at Repulse Bay Beach. Aside from the title sponsor Wheelock and Company Limited, the event is also sponsored by The Bank of East Asia, Limited, Circle K and stride rite. Every dollar raised, without any deduction of administration costs, will be allocated to enhance youth services supported by The Community Chest.
Participants will join one of four categories of races: relay for swimmers from corporations, disciplinary forces and schools; relay for families; Leaders' Lap; and the new Golden Kilometre open race.
While the races are on, family members and friends of the participants can have fun at the games stalls or building sand castles, making it a meaningful and enjoyable occasion for all.
The event has received overwhelming support with 88 teams participating - 64 from corporations including Hong Kong Paralympic Committee & Sports Association for the Physically Disabled; and 12 each from the disciplinary forces and schools. The Leaders' Lap Race is hugely popular with participants enlisted by members of the organizing committee - Chairman Mr Douglas Woo, Co-Chairmen: Mr Stephen Fung, Mr Adrian Li, JP and Mr Stanley Sun. The open race will see 40 competitive swimmers in what promises to be a very intense race.
The Hong Kong Jockey Club, as the Partner in charity of The Hong Kong Community Chest, generously helps subsidize its administrative costs, thereby enabling 100% of all donations to be allocated to its 155 member social welfare agencies.
- End -
About The Community Chest of Hong Kong
The Community Chest of Hong Kong was established in 1968 as an independent, non-profit making organization neither funded, nor operated by the Government. By organizing a variety of fund-raising events each year, The Community Chest allocates donations entrusted by the public to over 150 member social welfare agencies of over 2,400 service units, provide comprehensive services to more than 2.1 million beneficiaries in Hong Kong. The Community Chest's administrative costs are subsidized by the generous annual grant from The Hong Kong Jockey Club and prudent investments. The Community Chest is very proud to be one of the few fund-raising bodies who boasts of 100% allocation of funds to beneficiaries. For further information on The Community Chest, please visit www.commchest.org.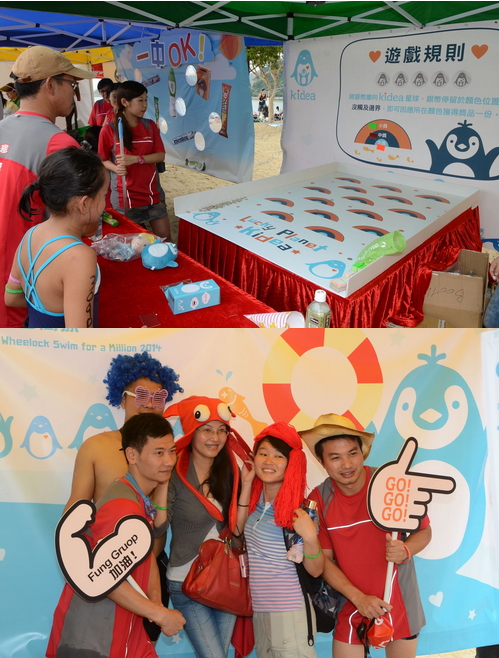 The Community Chest Wheelock Swim for Millions 2015 event will feature games stalls and areas for sand-castle building for all to have fun while contributing to charity, a repeat of the 2014 event (pictured).