20 July 2015
The Community Chest Wheelock Swim for Millions
Garners Strong Support from the Corporate Sector and Community
Welcomes All to Take "New Golden Kilometer" Challenge
"The Community Chest Wheelock Swim for Millions 2015" will make a big splash for charity on 25 October (Sunday)! Sponsored by Wheelock and Company Limited, and supported by The Bank of East Asia, Limited, Circle K as well as stride rite, this event invites swimmers to dive into the cool waves in Repulse Bay Beach with the crowds cheering and applauding their efforts for philanthropy. Don't miss the chance to challenge yourselves and make a difference for the underprivileged!
Challenges for Different Ages and Groups
"The Community Chest Wheelock Swim for Millions" offers four races: "Relay Races (Corporate/Disciplinary Force/School)" put the participants on an ultimate test of camaraderie and teamwork while the "Family Relay Race" brings family members together to experience the fun of sports.
"Leaders' Lap" invites community and business leaders to test their strength in water. Last year, this race attracted leaders including: Event Organising Committee Chairman Mr Douglas C K Woo, Co-Chairmen Mr Stephen Fung and Mr Stanley Sun; The Hon Bernard Charnwut Chan, GBS, JP, as well as Mr Lau Ming-wai, BBS, JP. The Chest is calling for more community leaders to join the race this year.

Test Your Stamina in A New Open Race – Golden Kilometer
For the more athletic, the newly introduced "Golden Kilometer" is just the right race for them as it offers not only challenges in water, but also on land. This exciting race route starts with a 500M swim, followed by a beach run and another 500M swim. Online registration for the "Golden Kilometer" race is now open. Please log onto www.commchest.org/swimformillions for details and sign up!
Category
Format
Donation Amount

Relay Races

A team of 4 members in relay Each member should complete 400M swim
A) Corporate B) Disciplinary Force C) School

Corporate/Disciplinary Force: HK$35,000 or above

School: HK$20,000 or above

Family Relay Race

A pair of family members in relay The first leg should complete 200M swim and the second complete 400M swim

HK$2,500 or above

Leaders' Lap

Each Leader should complete 200M swim

HK$25,000 or above

Open Race – Golden Kilometer*

Each participant should complete 500M swim followed by beach run and 500M swim

*Online registration only. Due to limited quotas, enrollment is on a first-come-first-served basis.

HK$450 or above
Adding celebratory atmosphere to the charity event, a carnival with an array of game booths will be set up on Repulse Bay Beach for the spectators and cheering teams.
Photo Caption: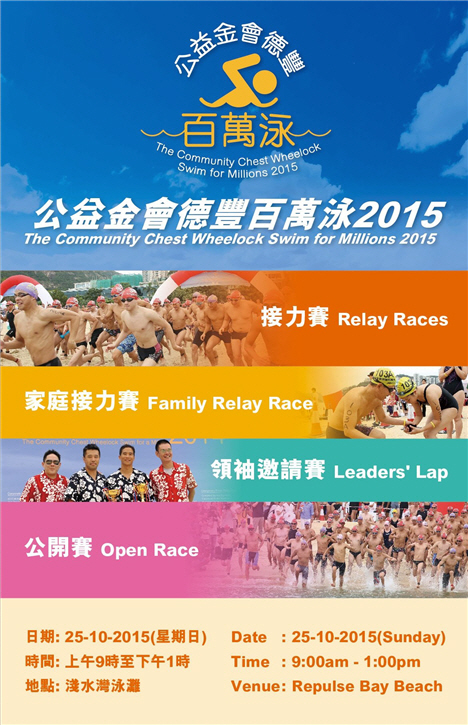 "The Community Chest Wheelock Swim for Millions 2015", to be held on 25 October, welcomes all swimming enthusiasts to participate.
-End-